Altcoin Analysis & Evaluation for Toncoin (TON)
OVERVIEW:
TON is a fully decentralized layer-1 blockchain designed by Telegram (a social messaging platform) to onboard billions of users. It boasts ultra-fast transactions, tiny fees, easy-to-use apps, and is environmentally friendly.
The big question on many investors' minds is whether TON can leverage Telegram's +550 million users, bringing TON to new heights.
---
What is Toncoin?
Toncoin (TON) is a decentralized Layer-1 blockchain developed in 2018 by the encrypted messaging platform Telegram. The project was then abandoned, taken over by the TON Foundation, and renamed from "Telegram Open Network" to "The Open Network".
Since 2020, the TON blockchain has been developing thanks to a non-commercial group of supporters and an independent community of enthusiasts who called themselves the TON Foundation. Toncoin, formerly known as Gram, is the native cryptocurrency of the TON network.
The original idea was to integrate TON into an easy-to-use application (Telegram) that allows users to buy/send/store funds. Clients pay transaction fees and use TON to settle payments or validate transactions. Toncoin utilizes the proof-of-stake (PoS) consensus model for network scalability and reliability.
Primary Use Case:
The original and primary use case for TON was as a payment mechanism for the Telegram social platform. While this was not pursued due to SEC legal issues, TON has pivoted to becoming more than just a payment provider, delving into Web3 and a platform for Dapp development to support the future of the internet - Web3.
Use Case Diversity
TON has developed a number of applications and used based upon its blockchain, such as:
Web 3 Proxy
Web 3 DNS
Smart Payments (Web 3)
NFT Marketplace
Recently TON launched DNS auctions where you can bid for popular Telegram domains. This added functionality will also help with the ecosystem development for TON.
Challenges to Adoption
Back in 2020, the SEC charged TON with issuing unregulated digital tokens which resulted in Telegram having to return $1.2 billion to investors and pay $18.5 million in penalties to the SEC.
Subsequently, Telegram has divested itself from TON and TON is now operating as a decentralized project.
If Toncoin can leverage its adoption and growth through telegram messenger, the potential user onboarding is immense.
While there are plenty of similar POS Layer 1's competing with TON for market share, TON's X-factor is its adoption potential through Telegram. Currently, there are +550 million active Telegram users and this could provide a massive launchpad for growth.
---
Technology:
Unlike most blockchain ecosystems, the TON ecosystem can sustain billions of concurrent users. It uses the blockchain sharding process, which utilizes many subnetworks (or shards) on a single blockchain to perform operations in parallel and more swiftly. Every shard does its part to ensure invalid blocks don't build up in a single location.
The TON network operates on a PoS consensus mechanism. The project employs Toncoin to verify all transactions and pay validators for their efforts. Nominators profit from the network by lending their tokens to validators. For a nominee to borrow tokens, they must first join a pool and stake their assets. Smart contracts administer nominators and validators, increasing the system's overall safety.
Consensus Mechanism:
The TON Blockchain is based on PoS consensus. The TON blockchain is a consensus algorithm based on PoS and implements sharding expansion. Therefore, the TON blockchain has the characteristics of tightly-coupled sharding that PoW does not have.
On the TON blockchain, the PoS consensus algorithm is used. While operating the PoS consensus, the TON blockchain has designed many consensus infrastructures, including Validators, Fisherman, Nominator, and Collator.
Validators
Validators work to verify unconfirmed transactions and package unconfirmed transactions into the blockchain to complete the verification of the transaction. The distribution of rewards is derived from the annual increase rate of the TON blockchain, and the TON blockchain will reward the additional TON to Validators. The current increase rate of the TON blockchain is 0.6%.
For example, the current market supply is 5,000,000,000 TONs, and the annual increase rate is 0.6%, which means that 30,000,000 TON will be issued to contributing validators this year.
---
Ecosystem Development
When new projects are ready to join the TON ecosystem, TON encourages their inclusion. These decentralized applications may communicate with one another thanks to the Toncoin cryptocurrency.
Recently, TONcoin.Fund was announced which is a $250M TON ecosystem fund that invests in strong teams with the vision to build on The Open Network.
1. TON Wallets
TON provides users with a multitude of ways to store and transfer their Ton token. The three most prominent are:
Tonkeeper – a fully modern, fully functional crypto wallet on the TON network
@Wallet – an easy and intuitive way to buy, sell and store Toncoin within the Telegram messenger.
Tonhub – Wallet app that lets you send and receive Toncoin fast and efficiently.
Whether it's using a browser application, a mobile app, or a chat-based application inside your messenger – the TON team has all use cases covered with their multitude of wallet offerings.
2. TON Proxy
The TON group is working to establish an Internet network according to the principles of Web 3.0. The developers are laying the groundwork for a decentralized and anonymous internet.
Two progress reports are available for this undertaking. Proxy 2.0 will guarantee anonymity and data security by masking the IP addresses of sites and network users. Future Internet infrastructure will include decentralized financial transactions thanks to Proxy 3.0. The network's users will pay fees by linking their wallets to cryptocurrency exchanges.
3. TON DNS
Creating new sites on Web 3 requires the internet to evolve from where it is today.  Within the TON project, a domain name auction for the ".ton" extension is now active. Not only will this allow internet browsers to find your website, but also allow users to connect their cryptocurrency wallet to the domain. in the future, cryptocurrency wallets would be as simple to remember as the domain name.
4. TON Payments
Users and DeFi platforms may instantly and cheaply trade tokens using this universal payment mechanism. Smart contracts are the foundation of TON Payments. Creating a private transaction between two users may circumvent the network's transaction fees. The smart contract setup fee is only required at the initial creation of a channel and again after its termination.
5. TON Diamonds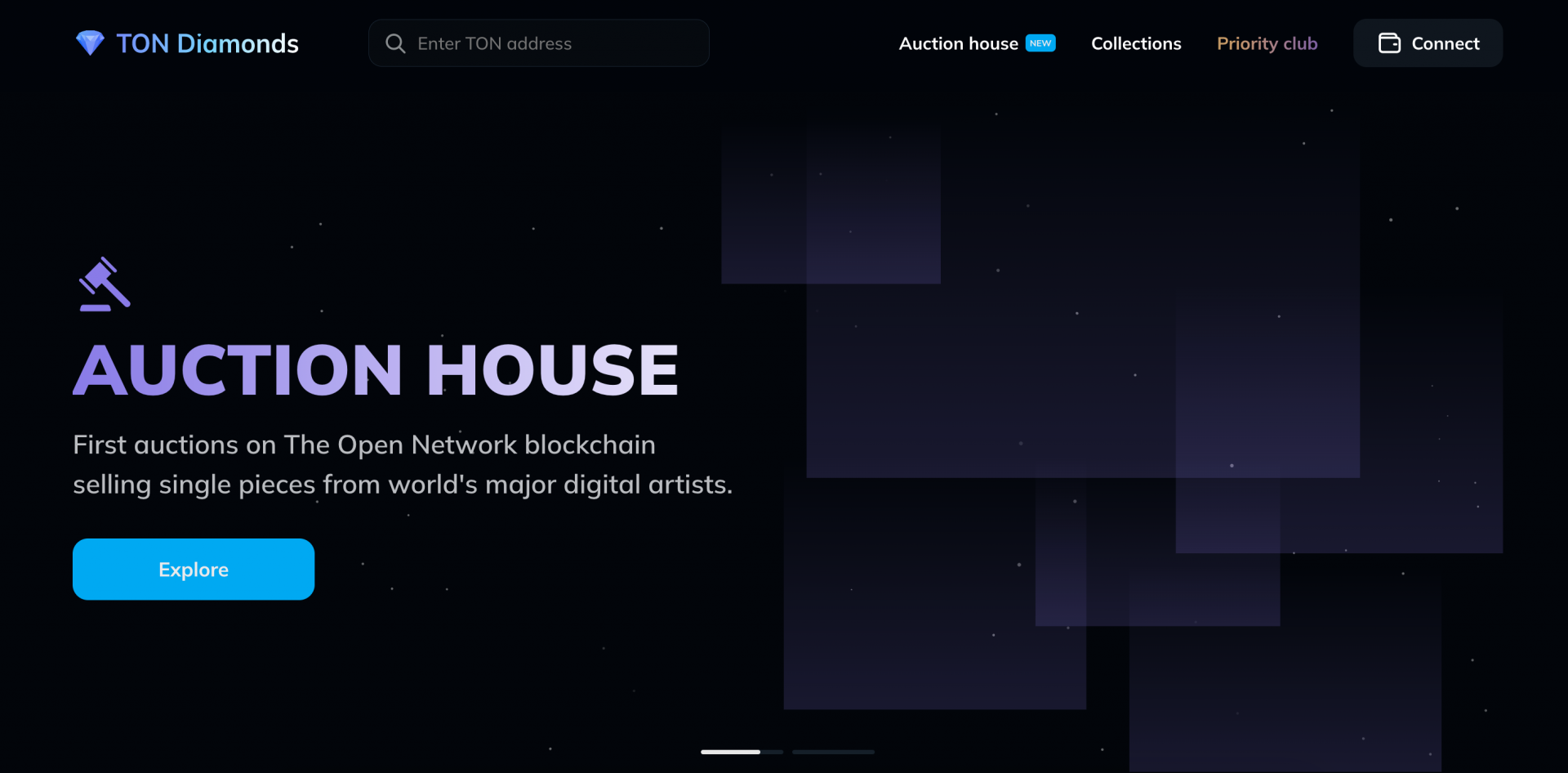 TON Diamonds, a decentralized NFT marketplace, is one of TON's leading products. Users are able to participate in online auctions and purchase or sell collections by some of the world's most creative digital artists. The TON Diamonds collection, which consists of 10,000 NFTs in the shape of animated diamonds, is the most popular.
Besides these projects, the ton community is also working on smart contract-based dApps that will work with the TON blockchain. Most of them are available on TON's mobile apps. There are currently several examples of NFT-based online marketplaces, services, games, and social media. One of the TON developers' primary aims is to merge all current crypto platforms under a single Web 3.0 domain.
---
Executive Team
There are a few main organizations that are driving development- TON Foundation and TON Society. TON prides itself on a decentralized, open-source community of experts and while there are a lot of developers and a large community, it is also difficult to find any clear organizational structure.
However, here are some of the key people actively involved in the project.
Founding Devs: Anatoliy Makosov & Kirill Emelyanenko
Founding Members of TON Foundation: Steve Yun & Andrew Rogozov
TON Ambassadors: Tal Kol & Oleg Andree
Board Members of TON Foundation: Manuel Stotz & Bill Qian
This includes the TON whales club whose team is listed below:
---
Token Economics
Circulating supply: 5.047 TON* | Maximum supply: 5B TON
*The initial supply of TON was 5 billion coins. The maximum supply is not capped and will inflate at approximately 0.6% per year. These newly created tokens are used to reward validators for keeping the network secure (BTW - TON offers ~8.2% APY for staking).
Tokenomics & Initial Launch
TON originally launched receiving $1.2 billion from investors. However, the SEC declared this an unregulated issuance of digital tokens, and the funds were returned to the investors.
Subsequently, all TON tokens have been released to the market. It is also important to note that the early miners (Whales) own a significant portion of TON coins.
---
Token Performance
As of the time of writing, December 31st, 2022, the price of TOM is at $2.17, with a market capitalization of $2.647B (USD).
The price of TOM has been in a downward trend over the last 365 days with a strong indication of a trend reversal occurring in the last few months.
Over the last few days, we see indications of a potential trend reversal, gaining strength over the last few days.
When to Buy TON:
TON has been one of the best-performing projects in the 2022 bear market.
TON is currently trading at $2.16 and a price between $2.10-$2.30 is considered to be an excellent entry point at this time.
A buy-in price of sub $2.30 is considered a good entry point for TON.
Where to Buy TON:
Toncoin is available from many of the large exchanges, including:
If you own a Ledger Hardware wallet, TON can be purchased from within the wallet using one of their partner exchanges (No KYC required).
---
TON Links
---
Final Grade:
B+ (80%)
The project has excellent fundamentals but has yet to be fully implemented.
This project exhibits strong tech development, a strong leadership team and ecosystem growth in line with all milestones. However, the project has yet to gain widespread market adoption.
Project development has been consistent in moving toward the proposed governance structure of the network, though full implementation has not yet occurred. The token retains a moderate level of vulnerability to adverse market conditions. While there still are factors present and mitigating factors inherent in future growth, at present the path toward full-scale adoption is considered to be medium risk.
Conclusion
TON is a very promising project with the potential for massive adoption by leveraging Telegram messenger. It has also been one of the strongest-performing coins through the 2022 bear market.
TON was originally developed as a payment mechanism for Telegram and its +550 million users. Due to legal issues, Telegram (officially) dropped TON and it was later adopted by open source developed and renamed The Open Network.
It is expected TON should expand rapidly in the next few years. Toncoin has the potential to become a globally usable means of doing cross-border financial transactions as blockchain technology develops. From January 2022, when there were just 200,000 active TON wallets, to May of the same year, there were over 600,000.
With this new high, widespread use of Toncoin may soon be a reality. There are now over 743,000 TON blockchain wallets, demonstrating that more and more individuals are adopting this cryptocurrency.
We have already seen TON (Telegram name reservation) adopted by Telegram and the big unknown which could potentially propel this project much higher is if, in the near future, Telegram actually integrates TON as a payment mechanism/gateway for their social platform. There is tremendous long-term potential for this blockchain project.